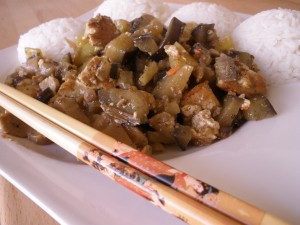 Na tyhle jídlíčka mám uchylku, nedá se tomu vyhnout…
Nakrájíme si jeden lilek na menší kousky, dáme do mísy, nasolíme a necháme aspoň 10minut vypotit. Mezitím si nakrájíme bílou papriku a osmahneme si ji na kapce olivovýho oleje. Pak přihodíme jedno nakrájený marinovaný tofu, zakapeme tmavou sojovkou, zlehka posypeme mletým zázvorem, přidáme špetku muškátového oříšku a necháme to pěkně spojit. Ještě tam pak vrhnem gyros koření, krapíteček chilli, sůl, pepř, trochu vegety, pár lžic sladké chilli omáčky a přihodíme žampiony a lilek. Celý to zalejem 0,3l vody a dáme pod pokličku dusit.
Mezitím si uvaříme jasmínovou rýži.
Občas to mícháme a ke konci (až je lilek měkkej) ještě přisypeme nori vločky (dle chuti) a zahustíme solamylem, ať je to pěkně slizský. Podáváme s jasmínovou rýží, rýžovými nudlemi, nebo s čím chcete.