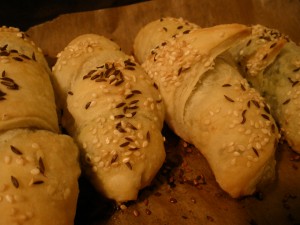 Výborná a celkem jednoduchá francouzská chuťovka!
Seženem si listové těsto (bacha, ne všechny jsou veganský), který pomoučíme hladkou moukou a válečkem pěkně rozválíme a nařežem si ho na trojúhelníčky (viz VIDEO). Mezitím si uvaříme špenát, když ste líný, stačí mraženej (pozor na ty ochucený se smetanou) – na oleji si osmahnem cibulku, do který pak vhodíme špenát a necháme ho změknout, pak přidáme česnek, sůl a pepř…No a když ho máme pak moc vodovej, tak ještě před balením ho trochu vymačkáme, pak by nám to všude teklo. No a jdeme na balení. Pro větší úspěch se KOUKNĚTE NA VIDEO, jak na to.  A pusťte si k tomu Queen, je to dobrá kapela!
Dáme si nažhavit troubu a až je pěkně všechny zabalíme, rozpustíme si kousek Alsan rostlinného másla a potřeme zezhora croissanty, což pak ještě posypem celým kmínem a sezamovým semínkem. No a šoupnem to do trouby a pečem do zlatova a křupava, takže to průběžně kontrolujte, ať to nespálíte!
No a abysme uspokojili sladký jazejčky, tak uděláme ještě druhej plech, ale místo špenátu tam dáme (v našem případě) domácí višňovou marmeládu a kousky hořké čokolády (pozor, ať je veganská) nebo kousky týhle dobroučký čokoládky, pak se to pěkně spojí a je to mňamózní!