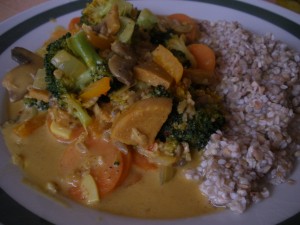 Parádní míchanina, zkuste si to!
Nejprve si dáme vařit vodu, propláchnem si pohanku lámanku (kolik je na vás), dáme si ji do mísy a až se voda uvaří, pohanku spaříme (zalejeme), přikryjem a necháme odpočívat.
Mezitím si omyjeme a natrháme na růžičky brokolici, mrkev nakrájíme na tenká kolečka, červenou papriku na menší proužky, jednu cibuli na kostičky, jeden větší stroužek česneku na malé plátečky, žampiony na plátky a jedno jemné klaso nakrájíme na čtvrtměsíčky.
Rozpálíme si v hrnci Alsan rostlinný máslo, přidáme cibulku a česnek a rovnou i mrkev a mícháme jak diví, přidáme špetku kmína, červenou papriku pálivou, pepř, sůl, grilovací koření a klaso, polejem sojovou omáčkou světlou a povalujem, ať se to pěkně spojí ty chutě. Potom zalejem půllitrem vody, přidáme brokolici, papriku, dvě hrstky slunečnicovejch semínek, dvě lžičky pálivý omáčky (třeba harissa) a žampiony, zamícháme a necháme pod pokličkou dusit. Občas to zamícháme a ještě přidáme kari a nešetříme s ním. Až je brokolice pěkně měkká a cejtíme, že se chutě pěkně rozložily, do hrnce zamícháme jednu sojanézu a ještě přisypem pár hrstiček jemnejch ovesnejch vloček, aby se to zahustilo.
Podáváme s pohankou a mlaskáme si.