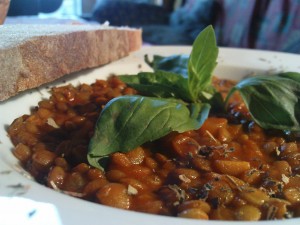 Jednou se nás takhle zeptal Kamýk (orlovská skejtová legenda):"Hej, už jste si dělali tu čočku, jak jsem vám říkal?", a my na to: "Jasný, je to ten nejlepší způsob, jak můžeš upravit čočku!" A tak, jak nám to popsal náš kámoš Kamýk, tak vám to popíšeme i my, šiřte toto vědění dál – větry z této čočky vás budou pohánět při jízdách na skejtu, longáči, kole atd. Doplň co chceš a enjoy!
Ingredience!
250 g čočky
1 cibule
4 stroužky česneku
kari nebo kurkuma
2 menší balení rajčatového protlaku
sůl, olej
1 středně velké Ollie
Čočku povaříme v osolené vodě – doba vaření záleží na druhu čočky, ta nejlevnější většinou potřebuje dlouhý koupání – cca kolem 30 minut. Čočka se vaří a my můžeme připravit základ, případně hodit nějaký triky na skejtu (bacha na sousedy!). Nakrájíme si cibulku na drobno, česnek na kostičky, plátky, nebo jak se vám to líbí. Pak tuhle směsici hodíme do hrnce, kde už na ni čeká kámoš olej, vše nakonec zaprášíme kari či kurkumou, prostě Indie jak má být. Až uznáme za vhodné, hodíme čočku do hrnce, přidáme protlaky a chvíli vaříme, podle potřeby můžeme ještě dolít vodu a dusit čočku do měkka. Na talíři můžeme ozdobit bazalkou, fajnšmekři mohou přidat i ložiska či kingpin!