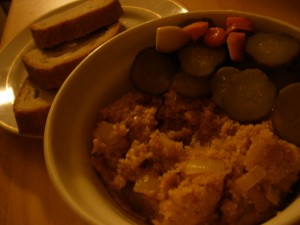 Parádní prasárnička – když sem to jedl poprvý, nevěřil jsem svýmu jazyku, stejně jako spousta dalších, který okusili tuhle srandu.
Dáme si vařit kukuřičnou krupici do malýho kastrůlku společně s hrnkem vody a mícháme dokud se nezmění v kaši. Mezitím si nakrájíme na drobno cibulku a osmahnem na olivovým oleji z pokrutin, až mírně zesklovatí, posypem drceným kmínem a pálivou paprikou a po chvilce přidáme kaši z kastrůlku. Pokud je to celý moc tuhý, přilejem vody podle potřeby. Osolíme, opepříme a teď hlavní kouzlo – sypký lahudkový droždí – který tomu celýmu přidá tu takzvanou vajíčkovou chuť! Zamícháme a fakt nekecám, chutná to jak míchaný vajíčka a je to fakt levný – balíček kukuřičný krupice stojí kolem 12 korun..
Podáváme na topinku, rozehřátej chleba, či toust a nebo jen tak.