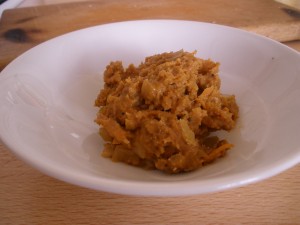 Pamatuju si jak nám tuhle pomazánku dělali ve školce a byla fakt hnusná, jestli si to taky pamatujete, tak na to zapomeňte a zkuste to znovu, je to fakt luxus. Tenhle recept sem napůl ukrad z veganka.cz, ale to neva.
Postup pro dva lidi:
Nastrouháme si nahrubo jednu menší mrkev, nakrájíme si cibuli na jemno. Rozpálíme si olej a přidáme cibuli a hned i mrkev – protože se beta karoten a zároveň tedy i vitamín A uvolňuje dobře v tucích. Restujeme do zlatova, přidáme sladkou papriku, sůl a pepř a rozdrolíme si do toho 3-4 kostky droždí a přidáme ještě trošičku vody. Zahustíme trochou strouhanky, trošku cáknem tmavou sojovou omáčkou, zamícháme a jíme s pečivem.
Můžeme i experimentovat s kořením a místo papriky dát kari, či kurkumu, nebo kmín, nebo vlastně cokoli, to je na vás.