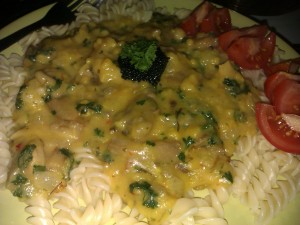 Mírně gurmánská záležitost, která vám nezabere více jak půl hoďky (cca…)
Ingredience:
těstoviny bezvaječné, hlíva ústřičná, petržel, Hráška na zahuštění, půlka zeleninového bujónu, 1 cibule, tymián
Příprava:
Nejdříve si dáme na mírném ohni vařit jemně osolené těstoviny. Poté dáme smažit najemno nakrájenou cibulku společně s tymiánem. Když je cibulka dozlatova smahnutá přihodíme na kostky nakrájenou hlívu a za občasného promíchání smažíme dále. V meziprocesu smažení nakrájíme petrželku na drobounké listí a ostraníme stonky. Dáme povařit v kastrolu s asi 3,5 dcl vody. Po pěti minutách přitáme zeleninový bujón. Když se nám to krásně smíchá a provaří zahustíme hráškou a na pánvi necháme splynout s hlívou a cibulkou.
Jak to naložit na talíř určitě tušíte. Pak už jen dozdobíme dle libosti. Já zvolil rajčátka, čerstvou petrželku a vegan kaviár z IKEY.