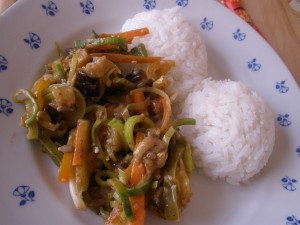 Párkrát jsem pil kokosový mlíko a moc mi to nechutnalo, ale do jídla to vůbec není špatný…
na 4 porce budem potřebovat:
jeden střední lilek, půlku středně velkýho pórku, jednu mrkev, jednu papriku, čtvrtku ze čtvrtky čínského zelí, kokosové mléko, nebo kokos milk, hrst sezamových semínek, hrst slunečnicových semínek, dva stroužky česneku, zázvor, nori řasy, pálivou papriku mletou, pepř, sůl, třtinový cukr, sojovku, solamyl, oregano, koření masala, jasmínovou rýži, jedno balení kešu ořechů
Postup:
Ještě před vařením si nasolíme na kostky nakrájený lilek a necháme odpočinout. Na rozpálený olivový olej z pokrutin dáme prvně na tenké proužky nakrájenou mrkev, chvilku orestujeme, zakápneme tmavou sojovkou a lžičkou třtinového cukru, a pak přidáme papriku (vše krájíme na proužky, pěkně to pak vypadá), společně s na plátky nakrájeným česnekem. Mícháme a poté posypeme mletým zázvorem a pálivou paprikou a pak přidáme lilek, zalejeme kokosovým mlíkem (použil jsem asi půlku plechovky), vrhnem tam slunečnici, sezam, zlehka osolíme, opepříme, přidáme špetku oregána a masala koření a kešu ořechy, přikryjem pokličkou a necháme malinko podusit.
Mezitím si vaříme jasmínovou rýži. Vařím ji vždy způsobem, že na sklenici rýže (zhruba tak dvě deci) připadne jeden a půl sklenice vody pro jednu osobu. Vaříme na mírném ohni pod pokličkou a občas zamícháme dokud se nevypaří voda. Až se voda vypaří, vypneme oheň, zamícháme, přiklopíme a necháme dojít pár minut pod pokličkou, dokud není rýže měkká a lepkavá.
Ke konci přidáme na kolečka nakrájený pórek a na proužky nakrájené čínské zelí, nori řasy (bacha ať to nepřeženete, sou dost aromatický, aby to pak nechutnalo jak rybářova bota) a cvrknem tam trochu solamylu, ať to proslizne, promícháme a ještě chvilku přikryjem a je hotovo.
Vzhledem k mým kokosovým antipatiím bych nevěřil že to řeknu, ale: "Kokos vládne!"