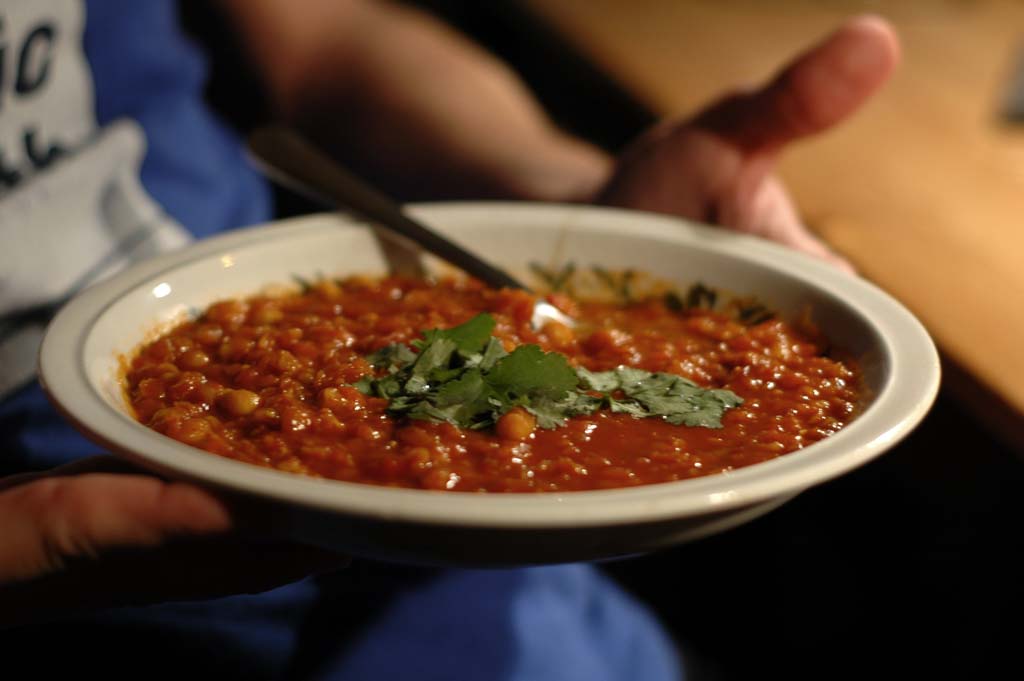 Bohužel velmi nefotogenická, ale chuťově luxusní polévka až z Maroka.
Ingredience jsou:
cizrna (vařená nebo v plechovce)
červená čočka
cibule
česnek
rajčata a rajčatová passata
koriandr (koření)
římský kmín
eventuálně nějaké dobré kari
rýžový nebo vinný ocet
zelený koriandr na posyp
Postup je velmi triviální. Na olivovém oleji se osmahne cibulka, po zesklovatění se přihodí vařená cizrna, promíchá, přihodí se červená čočka (já použila cca 200 g čočky a jednu konzervu cizrny). Pak se nasype do hrnce plnější lžička římského kmínu, koriandu a eventuálně toho kari a trochu se to zasmahne (omlouvám se, ale já vařím zásadně od oka, tudíž množství nejsou přesná. Řiďte se chutí, musí to být výsledně aromatické po kmínu a koriandru). Následně se to zalije passatou a nakrájenými rajčaty. Je dobré to trochu zředit vodou, protože ta čočka se tam sype neuvařená a vaří se až s tou polévkou a tím pádem to celé tak trochu zhoustne. Povaříme, nakonec se přidají tak dva stroužky česneku a přilije se tak půl deci octa, dá tomu šmrnc, věřte mi 🙂 No a jako každé jídlo se nakonec osolí dle chuti. Na talíři se zásadně podává se zeleným koriandrem.