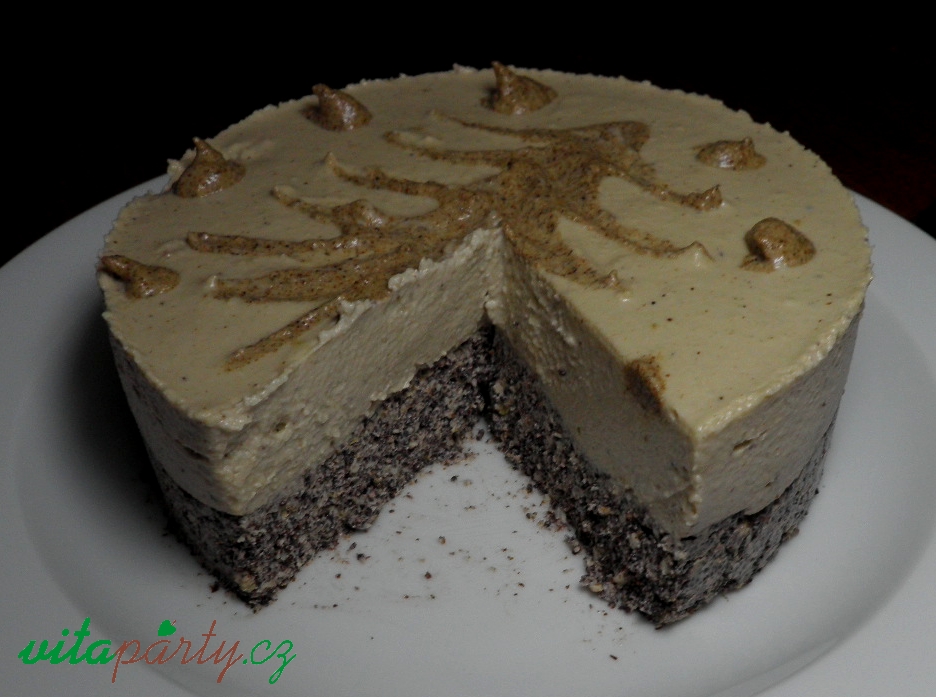 Tentokrát jsem se nechala inspirovat podzimní českou kuchyní našich babiček. Mák, vlašské ořechy, jablíčka, skořice… hmm 🙂 A opět nepečené, přesto vynikající.
 Potřebujeme:
Korpus:
1 díl namočeného máku – minimálně přes noc namočený
1 díl vlašských ořechů – namletých
Náplň:
citron na šťávu
jablka – 1dcl čerstvé šťávy
           1díl (hrnek) jemně nastrouhaných
1 díl namočených kešu ořechů (100g). 2-3h namáčet pak propláchnout ve studené vodě
1 pol. lž. kokosového oleje
agáve sirup dle chuti
skořice
Postup:
     Namočený mák scedíme, propláchneme vlažnou vodou a ve vyšší nádobě semínka narušíme tyčovým mixérem. Pokud máte kvalitní mixér, zkuste to v něm, ale bez vody se mák pravděpodobně nalepí na stěny. Tyčovým mixérem to šlo kupodivu dobře a mák se mi podařilo přetvořit do kašovité hmoty. Smícháte s namletými vlašskými ořechy a vypracujete těsto a natlačíte ho do formy. Opravdu už není potřeba přidávat žádný jiný tuk. Těsto krásně drží tvar i bez mrazení, jen po ztuhnutí v lednici. (na obrázku je použita forma o Ф 13cm, v tomto případě 1díl odpovídá hrnku o 2dcl)
     Nejdříve si rozmixujeme namočené, propláchnuté kešu ořechy s čerstvou šťávou z jablek. Už při odštavnění přidáváme po kapkách citronovou šťávu, aby nám později náplň nezhnědla. Také si vyberte jablíčka co nejvíce sladká a chutná, ideálně ze zahrádky. Já použila jablka zplaněná, která jsou sice menší, ale chuťově nej… Do mixéru přidáme najemno nastrouhaná oloupaná jablka, která také už při strouhání zakapáváme citronem. Přidáme kokosový olej, ochutnáme a můžeme dosladit sirupem. Přidáme trošku skořice. Náplň nalejeme na korpus, ale část si necháme na dozdobení. Do trochu zbylé náplně si přidáme víc skořice, a pokud chceme ještě tmavší krém, přidáme švestkový, nebo datlový sirup. Dozdobte dortík podle své fantazie. A dejte chladit do lednice. Mrazit opravdu není třeba.
Dobrou chuť.
Recept i obrázky můžete libovolně šířit pouze s uvedením zdroje www.vitaparty.cz
Recept vytvořila Iva Vomelová