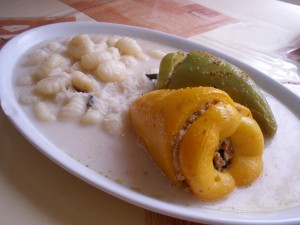 Trochu jsem zaexperimentoval s tím, co je v lednici a nakonec mě to mile překvapilo…
Plněné papriky:
Rozhňácal jsem si jedno tofu natural šťouchadlem na brambory a osmahl ho s jednou menší pokrájenou cibulkou na olivovém oleji. Zakápl jsem to tmavou sojovkou, přidal černou sůl (info o týhle parádě najdete ZDE), trošku normální soli, pepř, kořenící směs na mletá masa, poté jedno menší rajče nakrájené na drobno, pár pokrájených černých oliv a pár na drobno pokrájených jalapeňos. Pořádně zamícháme a potom tím naplníme vydlabané papriky, které šoupneme na vymaštěný pekáč a dáme do trouby péct. Vršky od paprik přichytíme párátkama, ať drží vcelku. No a nezapomeneme papriky pravidelně obracet, ať jsou ze všech stran – jo a ještě jsem je na pekáči trošku posypal gyros kořením.
Křenová omáčka:
Zatímco se nám dělaj papriky, uděláme si omáčku. Pro dvě porce bude stačit jeden středně velkej křen, kterej na jemno nastrouháme. Uděláme jíšku – rozpálíme si olej a pak přisypeme dvě až tři polívkový lžíce hladké mouky a mícháme, dokud mouka trochu nezhnědne. Pak zalejeme trochou vody (při nálívání pořád míchejte, ať se vám neudělaj hrudky) a následně přidáme hrnek až dva sojovýho mlíka (asi tak 5 lžiček na dvě deci, ať je to pěkně smetanový) a nebo sojovou smetanu. Až to celý zhoustne, tak to trochu osolíme a úplně nakonec přidáme nastrouhanej křen, zamícháme a hotovo. (pokud se vám udělají hrudky, vemte mixér a omáčku rozmixujte)
No a celý to podáváme s gnocchi, což jsou italský bramborový noky, maj je v mraženým i nemraženým stavu v obchodech a nebo si je udělejte. Je to zajímavá a libůstková kombinace chutí, vyzkoušejte!