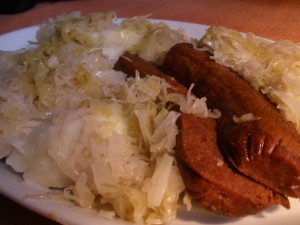 V lednici se mi válí experimentální vege klobáska jak hrom, takže mě hned napadá jak k tomu jím knedlo zelo hehe…a tady to je:
Houskový knedlík, který už jsme jednou dělali:
700-800 g hrubé mouky, droždí, třtinový cukr.
Ze všeho nejdřív si necháme vzejít kvásek. Vezmeme si mísu, ve které budem míchat těsto (nějakou větší), nasypeme na dno trochu mouky a rozdrolíme si tam necelou půlku droždí, a zasypeme troškou cukru, což pak zalijeme malou sklenicí vlažné vody a následně promícháme a necháme účinkovat tak 10 minut. Pak přisypeme zbytek mouky, skoro celou housku (natrhanou na malé kousíčky), další sklenici vody a hněteme těsto do kypra a polotuha. Uvaříme si vodu v hrnci, který pak strčíme do trouby na dno a nad hrnec do přihrádky dáme mísu s těstem přikrytou utěrkou a necháme vykynout (takhle urychlíme kynutí-ale pozor, troubu nezapínejte!). Až těsto vykyne, uválíme knedlík do jedný nudle tlustší, kterou rozkrojíme na 4 díly a dáme do vroucí osolené vody. Je lepší si vzít dva velký hrnce, knedlík se pak nafoukne, tak ať vám neleze z hrnců. No a vaříme cca 20-25 minut.
Je dobrý si knedlíků navařit víc a dát si je po porcích do mrazáku do pytlíku a pak při příhodný situaci si je ohřát na páře, to ušetří spoustu času a nemusíš pak jíst knedlíky 5 dní v kuse!
Mezitím vedle si na hrnci rozpálíme olej, nakrájíme si cibulku a orestujem ji na oleji. Pak přisypem trochu hladké mouky a uděláme si jíšku do které pak vrhnem kysané zelí (a nebo si ho můžete nakrouhat z hlávky,ale to byste ho museli aspoň půl hoďky dusit, ne-li víc), přidáme kmín a pepř, malinko osolíme a povaříme.
Na pánvičce si rozpálíme olej a dáme na ní klobásku, kterou jsme si rozkrojili v půlce vedví, aby se líp dělala a nezapomeneme ji potřít kari kořením, ať je to ten správnej kari wurst! Typická německá prasárnička je na světě a teď už chybí jen krýgl s pivem, kroje a do uší pořádnou jódlovačku!